The project page

Use this page to manage an individual project. From here you can upload files, choose languages and levels, purchase and finally download completed translations. This page has the following views: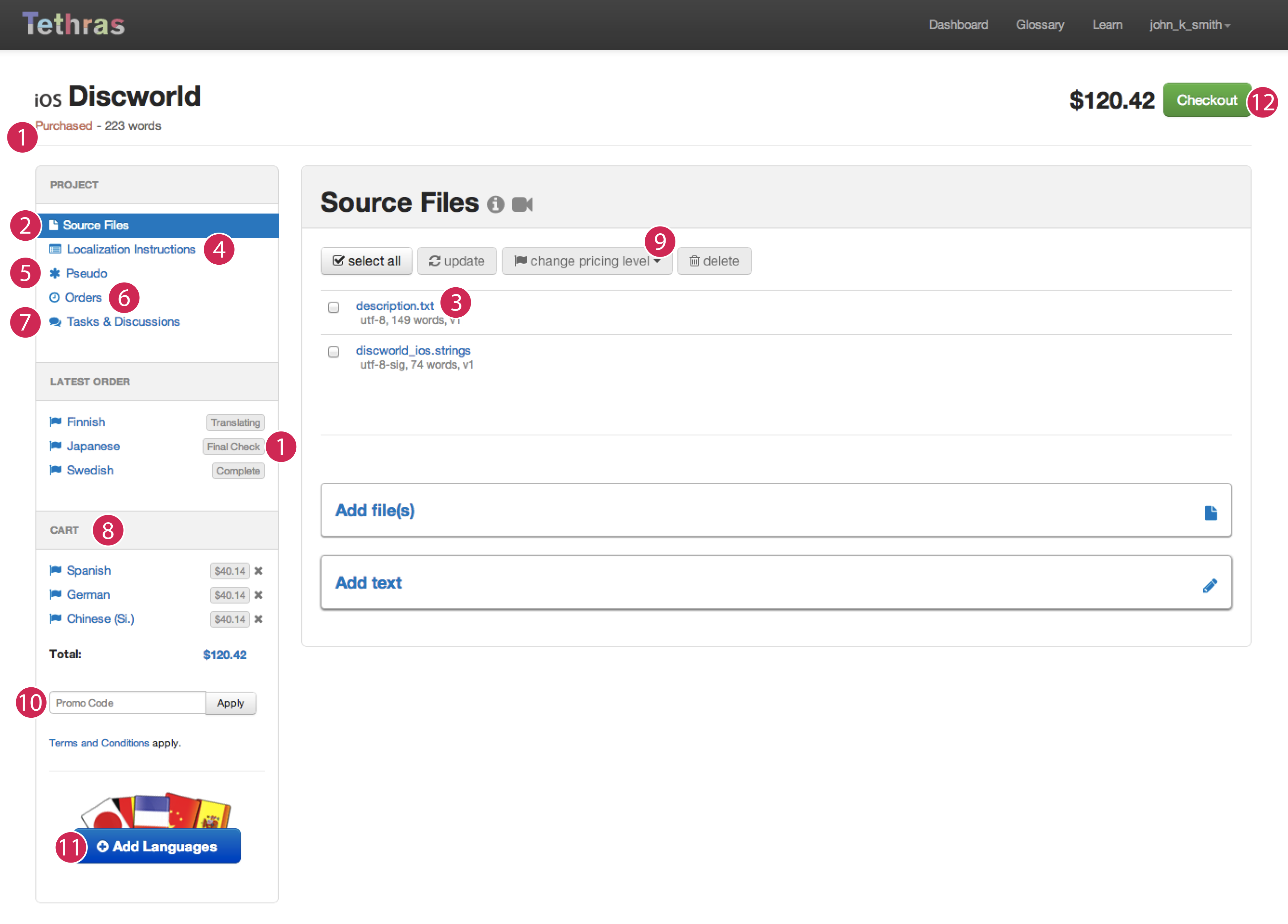 1. Project and Language Statuses
Each of your projects has a project status displayed next to your project name at the top of the project page and on your dashboard. The statuses use the following color code:
Green - you project is complete, and your translations are ready for download
Amber - your project is in production, and there are no issues that require your attention
Red - your project requires an action. It has either not been purchased or there is unresolved discussion pending
Each language has a status as well and there are short explanations available on hover over for each status to clarify their meaning so you will always know how your jobs are progressing.
2. Source File View
From this pane you can add and manage the source files in your project. The first thing you will have to do is to add files to your project (Note: For a full list of file types that we support click here). You can do this in one of two ways:
Add file(s) - Upload a single file or multiple files as a .zip
Add text - Copy and paste text into the text area (this is useful for marketing content)
When you press the upload button your content will be uploaded to Tethras for processing. Depending on the file type it will use different rules to extract the localizable content. If you have translated other apps with us the system will automatically calculate your leveraging discount in order to try and reduce the number of strings and hence the cost of the translation. This not only reduces cost as you don't have to pay to have the strings re-translated but it also improves consistency. Once the files are uploaded they will be shown in the Files View. You can click on any file to see the strings that have been extracted. If you no longer need a file you can delete it. If you want to updated the content of a file you can reload it at any time. The following gives some more detail on how to do this.
What does Updating mean?
To update the content of a file after you make changes to it you simply need to reload it. Tethras will detect which strings already exist, those which have been removed and those that have been added. So if you have already paid for translations for this file you will only have to pay to translate the new content. Every time you upload a different version of the file that version will be stored. This means that you do not have to create a new file every time you want to update the content of an existing file. To improve upload time only files that have changed will be processed. The following describes how to reload one or all of your files.
You can reload them one by one using the reload link beside each file name (only visible when you hover over the file)
You can choose to reload a number at once by selecting multiple and pressing the reload file button on top of the file list
Finally you can load them all again at the same time using a zip file. (Note: if you take this approach you must ensure that you are using the same file paths as the files already on the server so that the system can accurately match them.)
Whatever way you complete the update the system will automatically re-generate the quote for the languages you have previously purchased
Updates during translation
If you want to make some changes to your files while they are in translation you can follow the same steps as above. We will queue up the translation jobs so you don't have to wait until the first order is completed before submitting and purchasing the second.
3. Source strings view
From this page you can view all of the strings in a particular file. Should you need to add a character restriction to a particular string this would be the place to do it. You can also add comments to individual strings to clarify their meaning. The more context you can provide the better.

4. Localization instructions
The more context the translator has available the better they will be able to complete the translation job. From this screen you can enter detailed translation instructions and even upload screen shots of the app. Below you can find more detailed information for the fields in the Localization Instructions tab.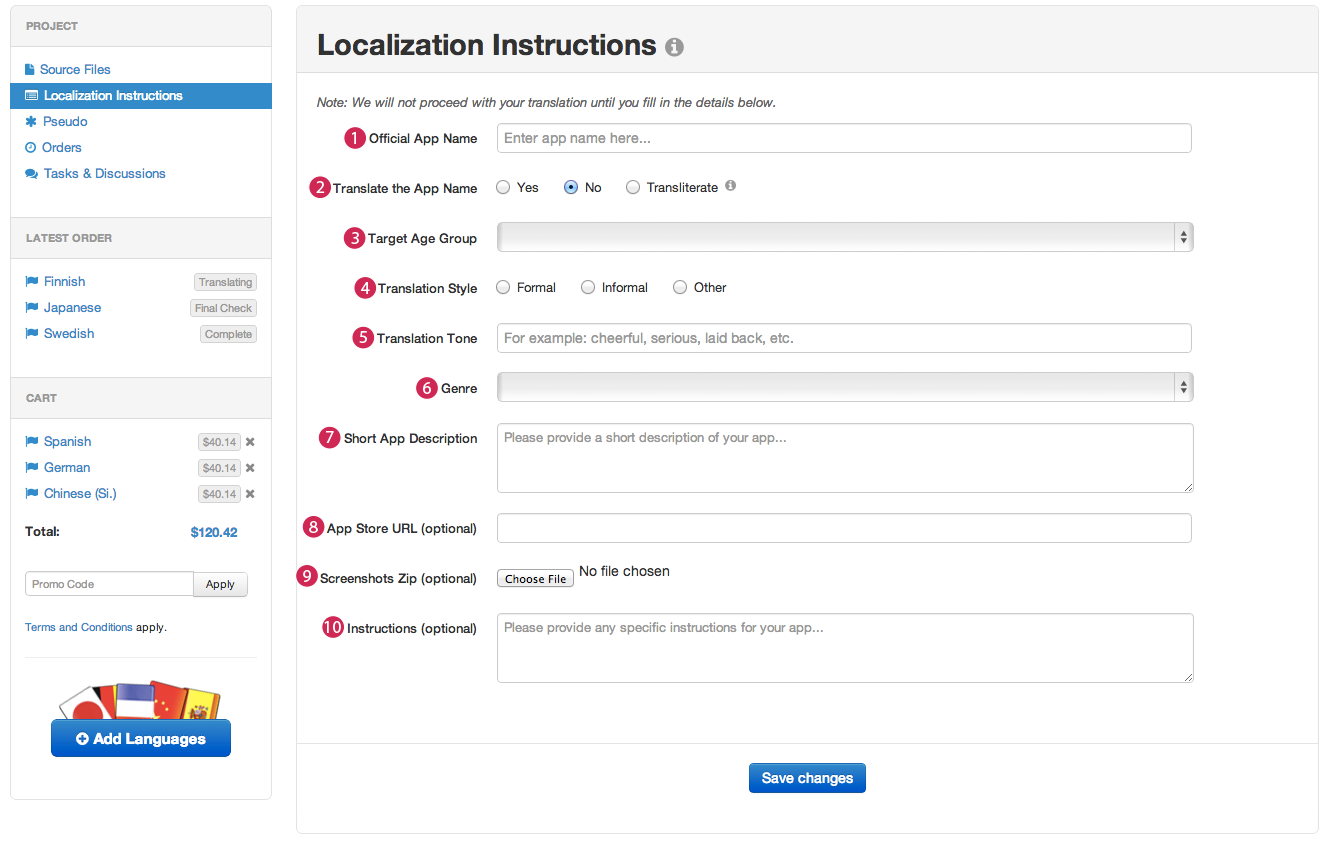 Official App Name: Our translators and project managers would like to go check your app out, and we will need to know its official name to be able to do that.
Translate the App Name: You can either translate the app name, leave it in English, or transcribe it into the corresponding alphabet of the target language(s).
Target Age Group: Some languages use very different expressions and even writing system (as is the case with Japanese) for the different age groups. Therefore this information is very important to ensure that your audience can understand the translation properly.
Translation style: This might not be too important when it comes to English, but many other languages use different tense and even words for formal and informal speech. For example Asian languages are hierarchy based so it is important to give this some thought before you purchase.
Translation tone: This is the overall atmosphere you want to create for your app. You can be as descriptive as you want - the better you manage to explain us the feeling you want your app to convey, the better your translation will be.
Genre: Please select your app genre as specified in the respective platform app store.
Short App Description: Tell us a bit about your app and what does it do.
App Store URL: If your app is available for download you can provide us with its app store URL.
Screenshots: Please attach a .zip containing any screenshots of your app for context.
Instructions: If you have any other instructions you would like us to follow please add them here.
5. Pseudo file view
When the files are uploaded you can download the pseudo translations and build them into your app. The system converts the text in your files to our pseudo language so you can ensure that everything has been externalized correctly. For more instructions on how to build these translations into your app see the pseudo file view page itself.
6. Orders View
Use this page to view the status of your orders and to download each of your completed orders. You can click on a given language to drill down and see what strings were actually purchased and how many strings were leveraged in a given order.
7. Tasks & Discussions
Tasks & Discussions are a vital part of the Tethras system. During Sanity check the Tethras production managers will raise queries in order to clarify meaning on strings. Translators may also raise queries at any given time. They are accessible from the sidebar of each project page.
Tasks are raised during Sanity Check. When you answer tasks you will be editing the string comment directly. For more information please see the Tasks section below.
Discussions can be raised by translators or production stuff, if there is anything unclear. Your answer will be visible to all translators. For more information please see the Discussions section below.
8. Destination Language Pages
You can use this page to customize the language purchase levels on a per file basis. The default purchase level is Professional. Once a project is purchased this page will report on the translation progress for each file.
9. Change Pricing Level
Once you have added languages to your basket you can change their pricing level, or mark files you don't need to be translated at this time. We have four pricing levels: Basic, Professional, Ultra and Specialist. Our default pricing level is Professional, but if you are not satisfied with your quote, you can change the pricing level and the price will be adjusted accordingly.
The pricing level is on a file per file basis. You can set your files at the same level for all languages in your basket from the files view. Select the files, whose level you need to adjust, then select the preferred level from the 'change pricing level' dropdown. We will change the selected files level for all languages in the cart and update your quote accordingly.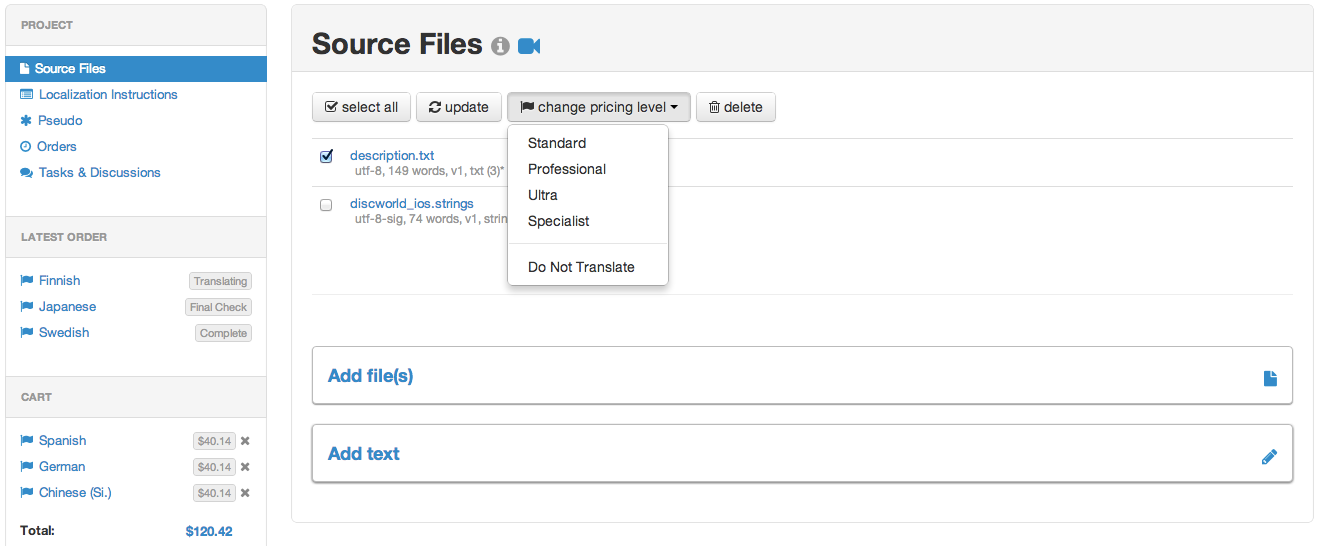 You can also adjust the pricing level for your files on language by language basis. Just click on a language, select the files, whose level you need to adjust, then select the preferred level from the 'change pricing level' dropdown. Our system will change the selected files pricing level and update the quote for the selected language only.

10. Apply Promotion Code
If you have a promotion code you can apply it here. You can always remove that promo code if you decide to save it for later - it will not be considered used after checkout.
11. Add languages view
From this page you can choose what languages you would like to add to your cart. Simply select those that you are interested in and click 'Add to Cart' when you are done. You will not be able to complete other operations while the system is generating quotes. If this is a large project and you are adding a number of languages this may take a few minutes. The most popular languages are listed at the top of the page.
12. Checkout View
After purchase you will be able to keep track of order status from the order status page. You will be notified by email once each language is completed.